Australian Cattle Dog Rescue

Australian Cattle Dogs
"FREE To Good Homes"

http://www.AustralianCattleDogs.com.au
---
---
"Rusty" - 7 months - Red Australian Cattle Dog (Heeler) - rehoused 11th January 2006.
"Rusty's" Settled Into A Good New Home Now.
Well today the 12th January 2006, just a short time ago, I met with two very decent people from Bendigo (Maiden Gully) in Central Victoria, Australia who have offered our house guest "Rusty" a new home.
Leigh and Lyndall Blandthorn with son Taigue (20 months) came to check out "Rusty" and see how he was with kids and after a good period of time decided he would be ideal for their young family of four.
"Rusty" will have a friend with an older mate a heeler/kelpie cross in "Lloyd" and I know he's gone to a good home. Y'know sometimes these things just feel right.
I have several pictures of "Rusty" and most of his new family below. Click on them to enlarge them.
"Rusty" and the Blandthorns' - Taigue (20 mths), Leigh and Lyndall with "Rusty"
Missing on safari is newborn Angus.

"Rusty" leaves for a new life in Maiden Gully

"Don't ya just love a happy ending?", says he with a tear in his eye.
So with all that said and done, his special doggy belt front seat harness on and without even a look back "Rusty" disappeared down the road in his new Holden, with his new family to live happily ever after. Which I'm sure he will.

I did ask and was promised by Lyndall she'd write me soon - in a couple of weeks - to let me know how "Rusty" has settled in so I'll be sure to update everyone on this page as soon as I find out. And guess what she has...

A Blandthorn Update @ 17-1-06

Hi,
I just thought I'd update you on Rusty.

He's settled in great. He's good with Taigue (20mths) & Angus (New).

Rusty & Lloyd (our other dog) are like two kids together, he's eating really well and I think he's realised this is his place and has started barking when people come. Lloyd seems to be teaching him what to do.

I will send you some photos soon.

Regards
Lyndall, Leigh, Taigue, Angus, Lloyd & Rusty
---
Rusty's Details - As Far As We Know - So Far
"Rusty" was not born and bred by ourselves. He was given to us in the hope we could either give him a good home or find him one if we couldn't give him a home via a friend of a friend who knew the owner. Hence finding out about "Rusty's" life prior to us has been a little difficult. But we will persist and try to get a contact number for "Rusty's" first owner.
We have had "Rusty" with us since about the 29th of December approximately.
We have been told the following details about "Rusty"...
He is 7-months old

He is pedigreed - we are trying to get a hold of this at the moment but as yet we haven't seen it.

His previous owners couldn't stop him wandering with their foxie (fox terrier) and gave him up as they didn't have the time or inclination to stop him doing this before he started getting into trouble and maybe killing sheep or the like. He has not as yet killed any sheep or other farm animals.

His previous owner ran Earthmoving equipment and had "Rusty" with him since a pup.
A "Rusty" Info Update...@ 15th Jan 2006
He is now nearly 8-months old.

His FROM a pedigree litter but the pedigree was not purchased with him. (There's always a reason when it doesn't come with the dog. ;-)

He comes from a breeder in Shepparton, Victoria, Australia. Still trying to narrow down who that breeder is and get a phone number of his first owner.
We have noticed the following things about "Rusty"...
He certainly does look like he could well be pedigreed and at 7-months old would be a typical size for a Red Heeler - Red Australian Cattle Dog.

He has one medium sized body patch on his rump and other than nearly a total head patch has no other markings. He has a dark snout.

He has the "Bentley" mark on his head.

He holds himself beautifully.

He is not micro chipped. Our NSW vet tells us that breeders of pedigreed animals do not HAVE to get them micro chipped like I thought they did. But I will find out more about this for my own info and update this page when I know more.

He has a very gentle and yet cheeky personality. And so could well have gotten up to mischievous exploits with his previous owner.

He has followed the examples set by our other dogs within a few days of landing here and so I feel it would be best that he go to a one dog family unless you have another dog with good habits that he can follow.

He has been partly trained but in my opinion, with an overly hard hand. On the second day he was with us my son went to throw a tennis ball around our yard with our other dogs and "Rusty" took off with his tail between his legs around the corner of the house as if his life depended on it. So we are after people who will treat "Rusty" with love and affection and NOT with an iron fist.

He is VERY affectionate - which I think may be related to the lack of gentle affection from the previous owner, but I am not definitely sure about this. It's probably just because he has had a lack of attention. He loves a pat and is always first to come and get one when you sit down in the backyard with them.

He has responded extremely well within a very short time to love and affection, yet firm vocal commands and is becoming better behaved each day.

He has come out of his shell in leaps and bounds especially over the last week.

He is gentle with people and only grasps your hand lovingly with his mouth to get your attention.

He is attaching himself to me (a male) and my son before the ladies of our house and so would probably attach better to a male than a female. I could be well an truly wrong with that judgement though. :) My daughter tells me he is attaching himself to her so as I said I could be wrong here.

He does stand up on you to get attention but over the last week with a little training he is now only standing up on people a little bit.

He is very quick - and upsets my older heeler bitch "Chloe" when he nips her and runs - much like he would do to a cow or horse. I can see good quality herding instincts in him and think with the right training "Rusty" would make an excellent working dog.

He does bark and is already after two weeks starting to bark at visitors every now and then albeit he is still working out who's who. He does not bark unnecessarily. He is not an annoying barker in other words.

He is eating very well now after an initial "shy" period when he first arrived and would hardly eat at all. He is now on three puppy mix dry food (extra proteins) meals mixed with special high protein and lactose free puppy milk - about one to two cups; just enough to cover the dry food.

He is very clever and I'm finding he is picking things up very quickly. Especially when there are treats involved :). My eldest daughter and I have only spent a little time training him so far.
We do not know the following about "Rusty"...
If "Rusty" is up to date with his puppy injections. That being said our Vet (Moama Vet) tells us that it will not hurt him to have another injection if we are unsure or cannot find out from his previous owner - although the latter is the preferred method.

If he is actually pedigreed.

What stud he comes from in NSW.

If he chases cats :). He hasn't chased our old cat yet :-) I saw him start to take after our cat today until he was scolded so maybe he does chase cats after all :).
Our family would love to keep him but as it is we live in town, in Echuca, and already have two Australian Cattle Dogs we must find him a new home. The shire rules are no more than two dogs per property.
We are not looking to give him to the first person/s who want/s him.
We aim to find "Rusty" a good and loving home. We want a family who will treat him right and as one of their own and train him to work if they have a farm.
We do not want to be out of pocket in helping "Rusty" other than for the feed we have provided. We are doing this out of the goodness of our hearts and because we love the breed. If someone doesn't go in to bat for the dog then who will?
Rusty's Pictures - Click on the picture to enlarge it in a new window
As you can see Rusty is of excellent proportions and a very nice looking heeler. He is only 7 months old - nearly 8 months - and will "fatten up" / "fill out" a lot more yet.
A Short "Rusty" Video - may be here if I get the time soon! No guarantees - sorry to those I promised!
Back To Top

---
"Maxie" - 3 years - Blue Australian Cattle Dog (Heeler) - successfully rehoused.
A New Farm Life Begins For Maxie
"Maxie" was the very first puppy into the world - born and bred by ourselves from "Chloe's" first litter with "Dozer" (deceased). He was given to my father Max - hence his name - who due to his retirement circumstances and busy life could no longer have a dog around.
Unfortunately "Maxie" had been castrated on the Vets advice to help calm him down only six-months prior - which did nothing I might add - so I couldn't keep him for breeding. He really only needed more time spent with him and not castration.
(This advice from Vets is a pet hate of mine. It wasn't from our Vet either.)
So "Maxie" got to have a short holiday with us for a couple of weeks and auditioned for the Sadller Family when the whole family including a couple of the small 2-years-old grandchildren came to visit and see what "Maxie" was like - especially with kids.
"Maxie" had always had a little bit of ongoing contact with my children who were between 8 and 13 when he was born, when we visited my parents in Echuca. So he wasn't totally new to kids. He was new to the small children though so it was a good test to have.
So gentle was "Maxie" for a big solid Australian Cattle Dog (Blue Heeler) that he was "borrowed" for a 1 week trial. Within a few days we were called and informed to get the Microchip paperwork changed over on him. "Maxie" was welcomed with open hearts into the Sadler Family onto their farm near Kotupna in Victoria to lead a relaxed life with all the new experiences that go with living on a small farm.
A picture/s will be here soon!
Back To Top

---
"Mac" - 11 months - Blue Australian Cattle Dog (Heeler) - successfully rehoused.
A Happy Home Found For Mac
"Mac" was born and bred by ourselves, one of the puppies from "Chloe's" first litter with "Dozer" (deceased).
As it turned out "Mac" didn't need to wait long to find a new home (20 minutes all up) due to the kindness of Gary Murray and Lisa Stagg ("Dozer's" family). As "Dozer" was lost to us all due to a snake bite and the fact that "Mac" looked just like "Dozer" with his head markings and body shape, Gary took one look, had one pat and welcomed him into their family to replace his father, "Dozer".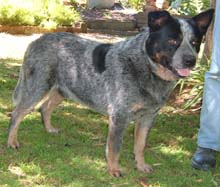 Footnote: See two of "Mac" and "Tilly's" first litter of pups that are currently for sale.
Click here to go there. This page will open in a new window.
Back To Top

---
Submit A Question and Get a FREE Copy of my NEW e-Book Titled... "The Australian Cattle Dog"
As a fellow Australian Cattle Dog Fancier (Lover), I need your advice!
I'm putting the finishing touches on a new e-book and information package that's all about Australian Cattle Dogs and I want to make sure I don't leave anything out.
So, will you let me know your biggest question about Australian Cattle Dogs? It could be anything...even if you think it's silly.
Also if you have a question regarding anything to do with the puppies then let me know that too and I'll answer if for you ASAP.
All you have to do is type your question in the little box below and click submit. In exchange for your advice, I'll give you a free copy of the e-book and information package when it's ready.
OK, here's the question and the easy-fill-submit form:
What's your BIGGEST question about Australian Cattle Dogs?
We will Never rent, sell or giveaway your details.
Your privacy is Safe and Secure with us! See our Privacy Policy.
I hope you took the time to ask a question. If you did then you'll be on the list to get first notification when the new e-book is available so you can download your FREE copy.
---
Our Contact Details
Phone Contact...
Australian:

International:

Phone:

(03) 5480 2277

Phone:

+61 3 5480 2277

Fax:

(03) 5480 6654

Fax:

+61 3 5480 6654

Mobile:

(0407) 67 44 00

Cellular:

+61 4 0767 4400
When contacting us by phone it is best to call between the hours of 10:30AM and 3:00PM AEST (Australian Eastern Standard Time) or AEDST (Australian Eastern Daylight Savings Time) - depending on the date you are calling - and then we can speak with you personally or return your message at our earliest convenience.
---
Please feel free to contact us at any time for more information on our great little Pure Bred Australian Cattle Dog puppies for sale and/or on the Australian Cattle Dog e-book due out soon.
Work Smart, Enjoy Life & Take Names

Stan
Australian Cattle Dog Fancier, Breeder & Author
(Personally, I Just Love 'em!)
www.AustralianCattleDogs.com.au
PS - Don't forget fill out the form above with you BIGGEST question about Australian Cattle Dogs so I can send you a FREE copy of my new e-book when it is finished. Click To Go To Form
PPS - If you have a "true" Australian Cattle Dog story for me to include in the e-book (with a reference to yourself of course), email me and in appreciation of your input I'll send you a link so you too can get a FREE copy of the e-book. You'll also have your name in print.
---
www.AustralianCattleDogs.com.au Website Links
PSST... Want to WIN by Voting for Your Favourite Pup??? CLICK HERE
Legal Notices | Back To Top

Copyright © 2004-2006 www.AustralianCattleDogs.com.au All Rights Reserved.